https://www.pragmatic365.org/display-show.asp?ComponentNo=000290
How does your Enterprise orchestrate the Transformation disciplines? https://www.pragmatic365.org/display-show.asp?ComponentNo=000290 FREE EA Training at www.PEAF.com/Training FREE EA Books at www.PEAF.com/Books #PEAF #PragmaticEA #EntArch #enterprisearchitecture #BizArch #Change #Innovation #BusinessModel #CEO #Strategy #TOGAF #ITgovernance #agileculture #agile #agileleadership #agilemethodology #itstrategy #ceos
Use discipline Orchestration to guide the overall work going on in a Phase. https://www.pragmatic365.org/display-show.asp?ComponentNo=000290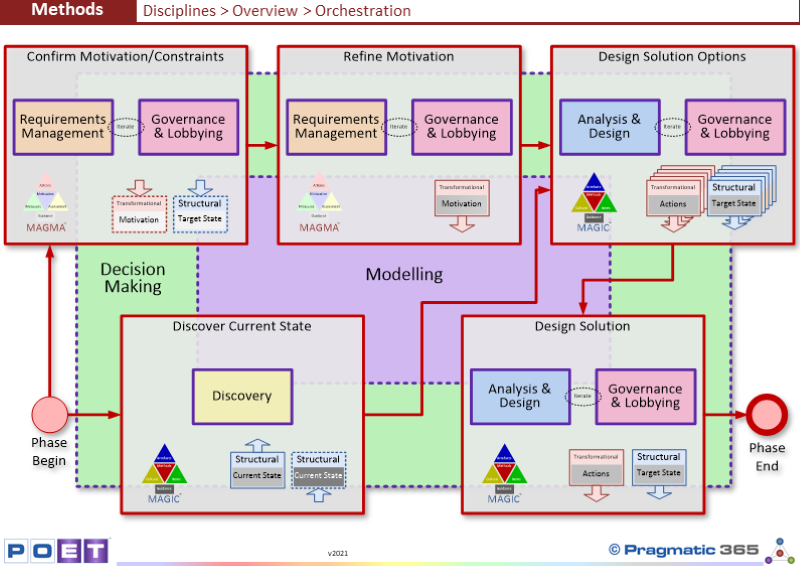 Here we see how these disciplines are orchestrated together to form the work carried out within any phase. Note that Governance & Lobbying is not carried out once at the end but instead is continuously occurring.
We begin by Confirming the Motivation and Constraints we have been given and then go on to Refine the Motivation to the level required for this phase. At the same time we can begin to Discover the Current State that exists which is our starting point for what needs to be transformed. Having understood the requirements and the current state to a sufficient level we then go on to Design Solution Options and to choose an option. Finally we can do the "Real Work" which is to Design the Solution.
| | |
| --- | --- |
| Keypoint | Adopt this component by... |
| Use discipline Orchestration to guide the overall work going on in a Phase. | Management: Ensure the basic discipline orchestration is followed in each phase. |
Questions to ponder...
How does your Enterprise orchestrate the Transformation disciplines?