https://www.pragmatic365.org/display-show.asp?ComponentNo=000688
Are you ready to take the Red Pill Are the leaders of your Enterprise ready to take the red pill? https://www.pragmatic365.org/display-show.asp?ComponentNo=000688 FREE EA Training at www.PEAF.com/Training FREE EA Books at www.PEAF.com/Books #PEAF #PragmaticEA #EntArch #enterprisearchitecture #BizArch #Change #Innovation #BusinessModel #CEO #Strategy #TOGAF #ITgovernance #agileculture #agile #agileleadership #agilemethodology #itstrategy #ceos
Red Pill: If you do not want to swallow the Red Pill, no one will force you https://www.pragmatic365.org/display-show.asp?ComponentNo=000688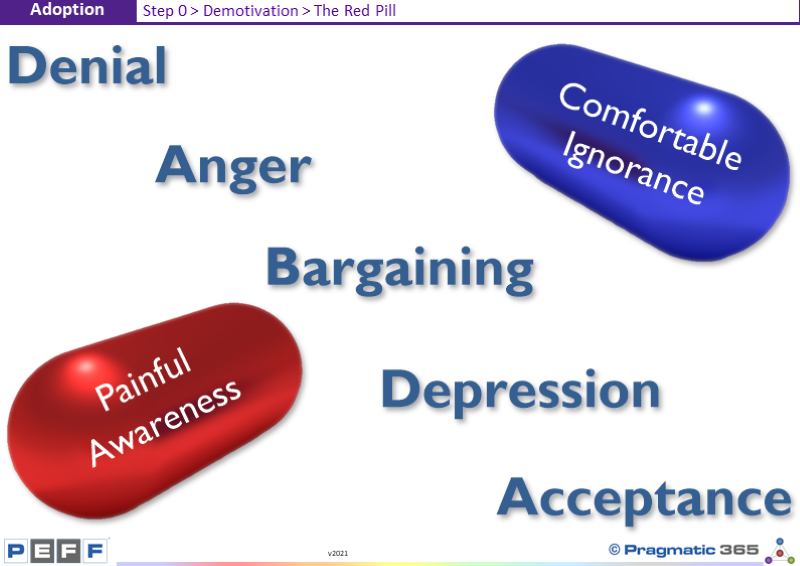 Most people are familiar with the concept of a Blue and Red pill from the film The Matrix.
"You take the Blue pill, the story ends. You wake up in your bed and believe whatever you want to believe. You take the Red pill, you stay in Wonderland, and I show you how deep the rabbit hole goes."
- Morpheus – The Matrix
Keypoint

Adopt this component by...

Red Pill:

If you do not want to swallow the Red Pill, no one will force you

C-Suite: Engage Pragmatic to give you the Red Pill. (But only you can decide to take it).
Questions to ponder...
Are you ready to take the Red Pill
Are the leaders of your Enterprise ready to take the red pill?