https://www.pragmatic365.org/display-show.asp?ComponentNo=000499
What influenced the frameworks you use? Are there any influences that your Enterprise has ignored? https://www.pragmatic365.org/display-show.asp?ComponentNo=000499 FREE EA Training at www.PEAF.com/Training FREE EA Books at www.PEAF.com/Books #PEAF #PragmaticEA #EntArch #enterprisearchitecture #BizArch #Change #Innovation #BusinessModel #CEO #Strategy #TOGAF #ITgovernance #agileculture #agile #agileleadership #agilemethodology #itstrategy #ceos
Pragmatic Frameworks were mostly influenced by the thinking of Deming and Zachman. https://www.pragmatic365.org/display-show.asp?ComponentNo=000499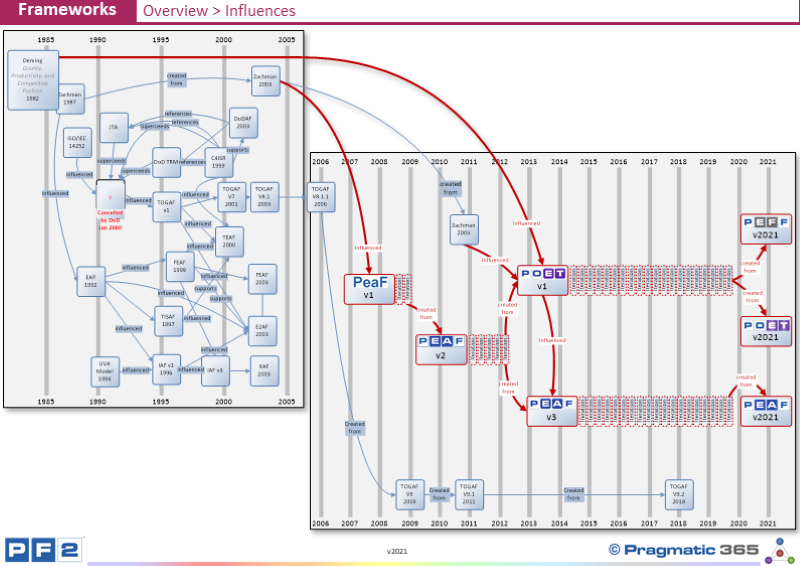 Businesses should concentrate on what they are good at. They should concentrate on their core business. Frameworks allow an Enterprise to do something without having to start from scratch. Frameworks should allow Enterprises to lever accepted wisdom without them having to invest huge amounts of time and money. But do they?
Here we see the timeline of many "EA Frameworks" and what influenced POET and PEAF.
| | |
| --- | --- |
| Keypoint | Adopt this component by... |
| Pragmatic Frameworks were mostly influenced by the thinking of Deming and Zachman. | |
Questions to ponder...
What influenced the frameworks you use?
Are there any influences that your Enterprise has ignored?