https://www.pragmatic365.org/display-show.asp?ComponentNo=000579
What is the Project Lifecycle of your Enterprise? Where does EA Governance fit into it? https://www.pragmatic365.org/display-show.asp?ComponentNo=000579 FREE EA Training at www.PEAF.com/Training FREE EA Books at www.PEAF.com/Books #PEAF #PragmaticEA #EntArch #enterprisearchitecture #BizArch #Change #Innovation #BusinessModel #CEO #Strategy #TOGAF #ITgovernance #agileculture #agile #agileleadership #agilemethodology #itstrategy #ceos
EA work has to integrate with your project processes (SDLC). https://www.pragmatic365.org/display-show.asp?ComponentNo=000579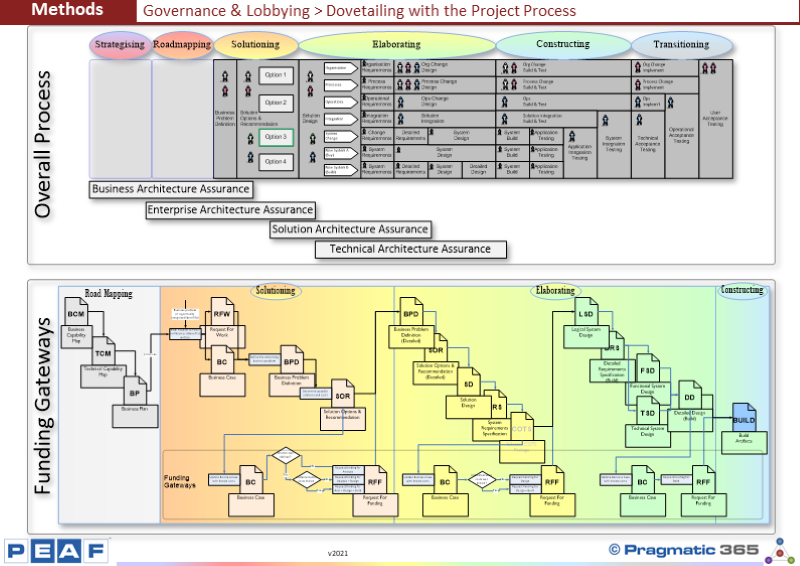 EA Governance comes into play before any projects are initiated and continues as those projects execute.
Here we illustrate a generic project process (phases do not negate the possibility of utilising Agile and iterative methodologies). The purpose of the diagram is not necessarily to define the project process as every Enterprise will already have its own project process, but to illustrate where Enterprise Architecture Governance begins and ends in that lifecycle.
| | |
| --- | --- |
| Keypoint | Adopt this component by... |
| EA work has to integrate with your project processes (SDLC). | EA Project Team: Ensure that EA Governance/Lobbying work dovetails with your project processes (SDLC). |
Questions to ponder...
What is the Project Lifecycle of your Enterprise?
Where does EA Governance fit into it?