https://www.pragmatic365.org/display-show.asp?ComponentNo=000781
Do you think Enterprise Transformation frameworks should explain HOW they should be adopted? Which Enterprise Transformation frameworks does your Enterprise currently use? Did they explain how you should adopt them, or leave you to figure it out for yourself? https://www.pragmatic365.org/display-show.asp?ComponentNo=000781 FREE EA Training at www.PEAF.com/Training FREE EA Books at www.PEAF.com/Books #PEAF #PragmaticEA #EntArch #enterprisearchitecture #BizArch #Change #Innovation #BusinessModel #CEO #Strategy #TOGAF #ITgovernance #agileculture #agile #agileleadership #agilemethodology #itstrategy #ceos
The Adoption section of PEFF defines the first 3 steps common to adopting any Pragmatic Framework. https://www.pragmatic365.org/display-show.asp?ComponentNo=000781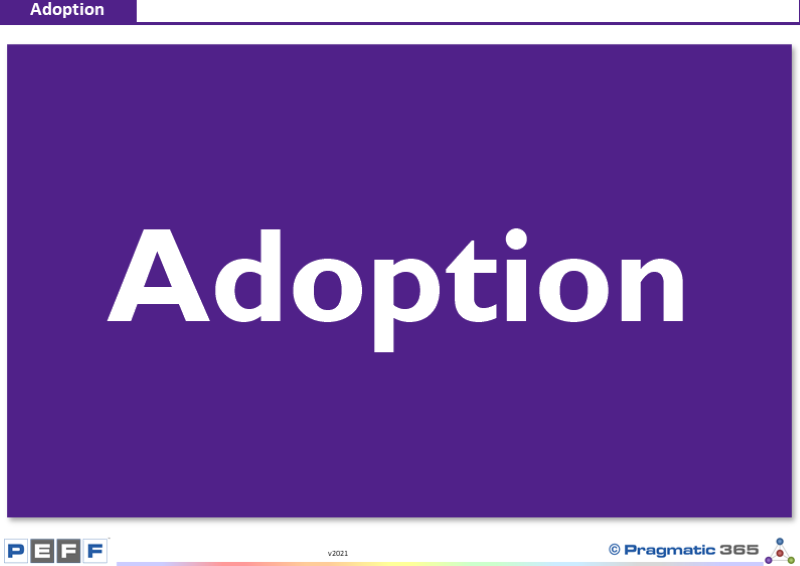 The Adoption section of PEFF only includes the details for Steps 1 to 3, which are concerned with identifying and understanding, which part of the Transformation Capability requires attention. The detail of Steps 4 to 5 can be found in POET and PEAF because they are dependent upon the domain being matured.
| | |
| --- | --- |
| Keypoint | Adopt this component by... |
| The Adoption section of PEFF defines the first 3 steps common to adopting any Pragmatic Framework. | |
Questions to ponder...
Do you think Enterprise Transformation frameworks should explain HOW they should be adopted?
Which Enterprise Transformation frameworks does your Enterprise currently use?
Did they explain how you should adopt them, or leave you to figure it out for yourself?