https://www.pragmatic365.org/display-show.asp?ComponentNo=000578
What types of Assurance does your Enterprise have? Are there different levels? Who is Accountable and Responsible for creating the Principles, Policies and Standards? Who is Accountable and Responsible for operating your levels of Assurance? https://www.pragmatic365.org/display-show.asp?ComponentNo=000578 FREE EA Training at www.PEAF.com/Training FREE EA Books at www.PEAF.com/Books #PEAF #PragmaticEA #EntArch #enterprisearchitecture #BizArch #Change #Innovation #BusinessModel #CEO #Strategy #TOGAF #ITgovernance #agileculture #agile #agileleadership #agilemethodology #itstrategy #ceos
EA Governance is the highest-level of Transformation Governance. https://www.pragmatic365.org/display-show.asp?ComponentNo=000578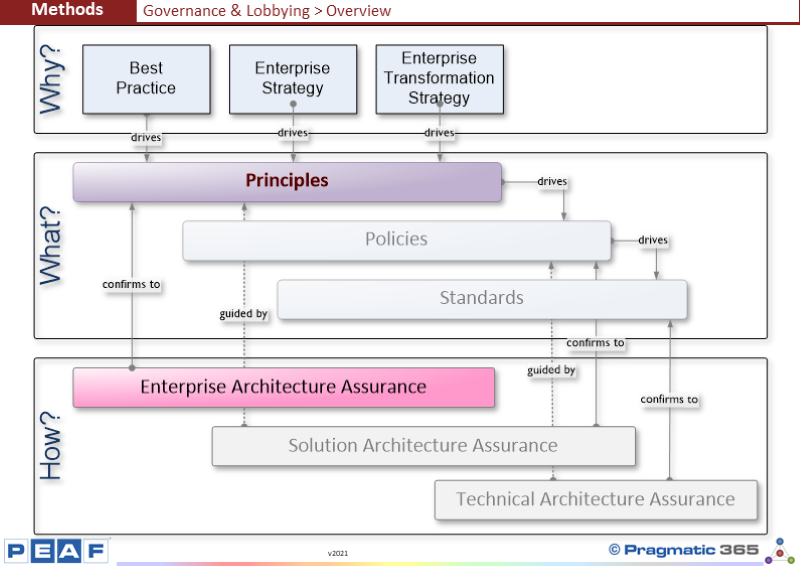 The purpose of governance is to ensure that as change happens on a daily basis, that change is guided in accordance with the bigger strategic and long term picture of the Enterprise.
Governance must not put up barriers and stop work from happening, but should allow decisions to be made in the context of understanding the implications of the Transformation Debt™ that may be incurred.
| | |
| --- | --- |
| Keypoint | Adopt this component by... |
| EA Governance is the highest-level of Transformation Governance. | |
Questions to ponder...
What types of Assurance does your Enterprise have?
Are there different levels?
Who is Accountable and Responsible for creating the Principles, Policies and Standards?
Who is Accountable and Responsible for operating your levels of Assurance?