https://www.pragmatic365.org/display-show.asp?ComponentNo=000528
Do you use BMM and if not what do you use in its place? Is there a well-defined structure used for documenting Enterprise Strategy, and if not, what problems is that likely to cause? https://www.pragmatic365.org/display-show.asp?ComponentNo=000528 FREE EA Training at www.PEAF.com/Training FREE EA Books at www.PEAF.com/Books #PEAF #PragmaticEA #EntArch #enterprisearchitecture #BizArch #Change #Innovation #BusinessModel #CEO #Strategy #TOGAF #ITgovernance #agileculture #agile #agileleadership #agilemethodology #itstrategy #ceos
BMM provides for Transformational information only relating to Strategising, and no Structural information. https://www.pragmatic365.org/display-show.asp?ComponentNo=000528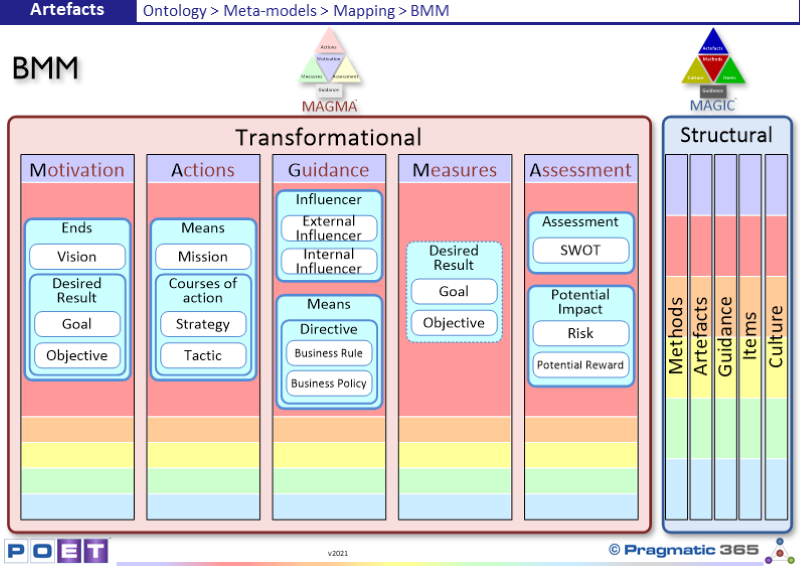 It is useful to note how other classification schemes have been used to try to describe the transformation of something. The Business Motivation Model (BMM) is a common scheme although it only covers the contextual (pink) level.
¨ Ends (including the Vision and the Desired Result comprising Goals and Objectives) come under the Motivation domain in MAGMA - which is a higher level category including other things like Requirements.
| | |
| --- | --- |
| Keypoint | Adopt this component by... |
| BMM provides for Transformational information only relating to Strategising, and no Structural information. | Enterprise Architect: Think in terms of MAGIC and MAGMA, not BMM. |
Questions to ponder...
Do you use BMM and if not what do you use in its place?
Is there a well-defined structure used for documenting Enterprise Strategy, and if not, what problems is that likely to cause?