https://www.pragmatic365.org/display-show.asp?ComponentNo=000463
Have you used TOGAF? What did you do in the Preliminary Phase? Did you get the mandate and resources required to increase your maturity? https://www.pragmatic365.org/display-show.asp?ComponentNo=000463 FREE EA Training at www.PEAF.com/Training FREE EA Books at www.PEAF.com/Books #PEAF #PragmaticEA #EntArch #enterprisearchitecture #BizArch #Change #Innovation #BusinessModel #CEO #Strategy #TOGAF #ITgovernance #agileculture #agile #agileleadership #agilemethodology #itstrategy #ceos
Start with POET and PEAF, and then move on to TOGAF if required. https://www.pragmatic365.org/display-show.asp?ComponentNo=000463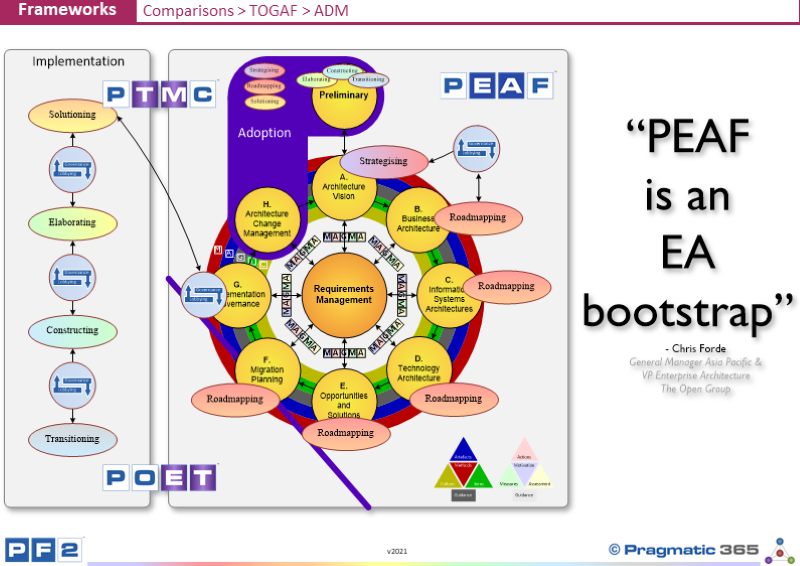 Here we show how POET and PEAF compares to the TOGAF ADM.
Essentially, the Adoption Sections of POET and PEAF relate to the Preliminary phase of TOGAF. We also show how the Strategising and Roadmapping phases map to the meat of TOGAF, with the Governance and Lobbying disisplines of POET and PEAF map to Implementation Governance and Architecture Change Management.
| | |
| --- | --- |
| Keypoint | Adopt this component by... |
| Start with POET and PEAF, and then move on to TOGAF if required. | Enterprise Architect: If using TOGAF, use PEAF as a bootstrap |
Questions to ponder...
Have you used TOGAF?
What did you do in the Preliminary Phase?
Did you get the mandate and resources required to increase your maturity?