https://www.pragmatic365.org/display-show.asp?ComponentNo=000563
Do you agree that this phase can be broadly deemed to be the scope of EA work? Where would others in your Enterprise draw the line? https://www.pragmatic365.org/display-show.asp?ComponentNo=000563 FREE EA Training at www.PEAF.com/Training FREE EA Books at www.PEAF.com/Books #PEAF #PragmaticEA #EntArch #enterprisearchitecture #BizArch #Change #Innovation #BusinessModel #CEO #Strategy #TOGAF #ITgovernance #agileculture #agile #agileleadership #agilemethodology #itstrategy #ceos
Roadmapping is phase that is part of the EA domain. https://www.pragmatic365.org/display-show.asp?ComponentNo=000563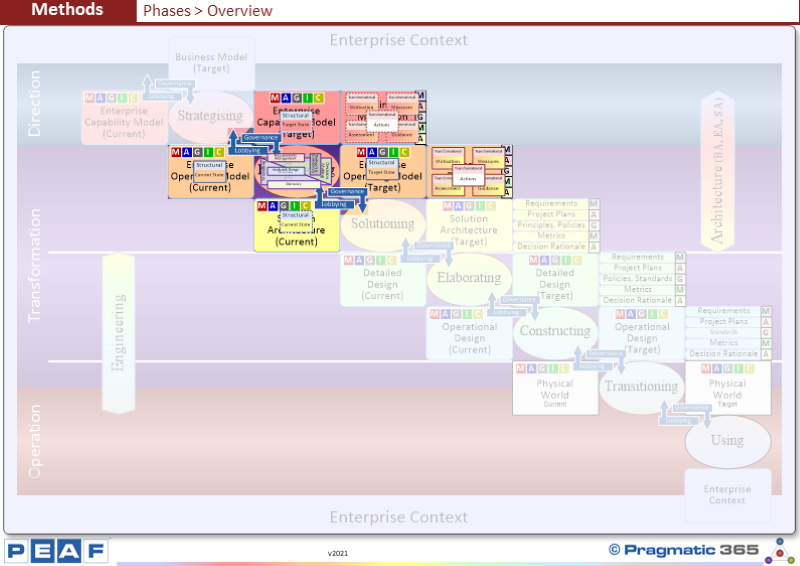 Here we consider the Methods for the whole Transformation Capability (as defined by POET) and highlight the Phase which constitutes our EA Capability.
Although our Primary domain is Roadmapping, we should also consider Strategising because the work that goes on in that phase and its outputs have deep and profound impacts on the work being undertaken in Roadmapping. We should also consider the Solutioning phase because the work that goes on in Solutioning can have deep and profound impacts if it does not follow the work produced in Roadmapping.
| | |
| --- | --- |
| Keypoint | Adopt this component by... |
| Roadmapping is phase that is part of the EA domain. | Management: Ensure everyone in the Enterprise understands How EA fits with respect to Business Architecture and Solution Architecure. |
Questions to ponder...
Do you agree that this phase can be broadly deemed to be the scope of EA work?
Where would others in your Enterprise draw the line?