https://www.pragmatic365.org/display-show.asp?ComponentNo=000607
Does anyone in your Enterprise perform these duties? If not, who will perform them? Are there people in your Enterprise already capable of performing these duties? If not, where will you get them from? https://www.pragmatic365.org/display-show.asp?ComponentNo=000607 FREE EA Training at www.PEAF.com/Training FREE EA Books at www.PEAF.com/Books #PEAF #PragmaticEA #EntArch #enterprisearchitecture #BizArch #Change #Innovation #BusinessModel #CEO #Strategy #TOGAF #ITgovernance #agileculture #agile #agileleadership #agilemethodology #itstrategy #ceos
Type 2 Enterprise Architect's work is primarily to; 1) support Strategising. 2) perform Roadmapping 3) Govern executing projects. https://www.pragmatic365.org/display-show.asp?ComponentNo=000607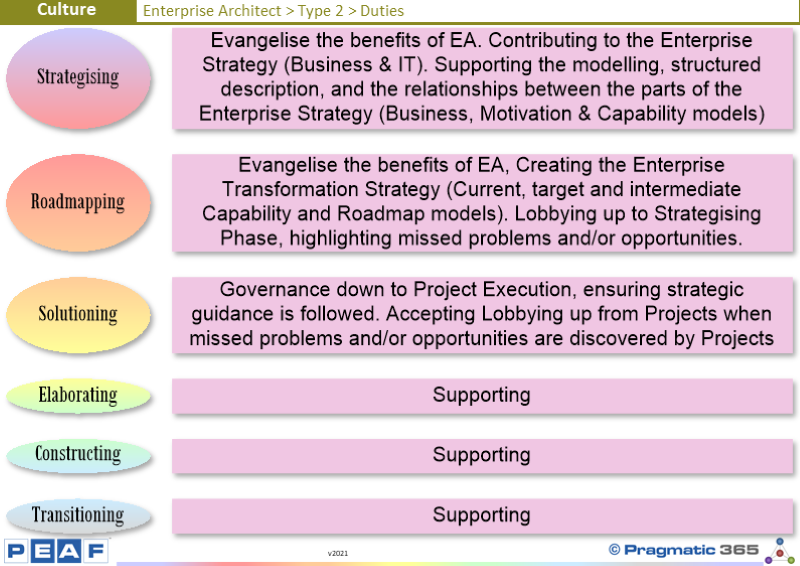 The Type 2 EA is involved in Transformation. Not the Transformation of Transformation (What the Type 1 does) but the Transformation of Operations (or Support or Direction).
As such he also follows the standard Transformation phases but is only concerned with the Strategising, Roadmapping and Solutioning phases and the Governance and Lobbying between them. He may be required to participate in subsequent phases but only usually when there is a panic or specific strategic guidance is required.
| | |
| --- | --- |
| Keypoint | Adopt this component by... |
| Type 2 Enterprise Architect's work is primarily to; 1) support Strategising. 2) perform Roadmapping 3) Govern executing projects. | Management: Ensure everyone in the Enterprise understands what a Type 2 Primary Tasks are. |
Questions to ponder...
Does anyone in your Enterprise perform these duties?
If not, who will perform them?
Are there people in your Enterprise already capable of performing these duties?
If not, where will you get them from?