https://www.pragmatic365.org/display-show.asp?ComponentNo=000301
Does your Enterprise even recognise this as a discipline? How does this discipline map to your Enterprise? Are there any problems with how your Enterprise executes this discipline? Does the discipline your Enterprise uses include all of these required inputs and outputs? If not, what do you need to change? Who is Responsible for making them? And who is Accountable for making sure the changes are made? Does your Enterpise train people in this discipline? If not, do you think it would be beneficial to do so? If so, who will you talk to, to make it happen? https://www.pragmatic365.org/display-show.asp?ComponentNo=000301 FREE EA Training at www.PEAF.com/Training FREE EA Books at www.PEAF.com/Books #PEAF #PragmaticEA #EntArch #enterprisearchitecture #BizArch #Change #Innovation #BusinessModel #CEO #Strategy #TOGAF #ITgovernance #agileculture #agile #agileleadership #agilemethodology #itstrategy #ceos
1. Only model things to answer a question. 2. Treat model population as a Data Migration exercise. 3. Integrate/remove source data. https://www.pragmatic365.org/display-show.asp?ComponentNo=000301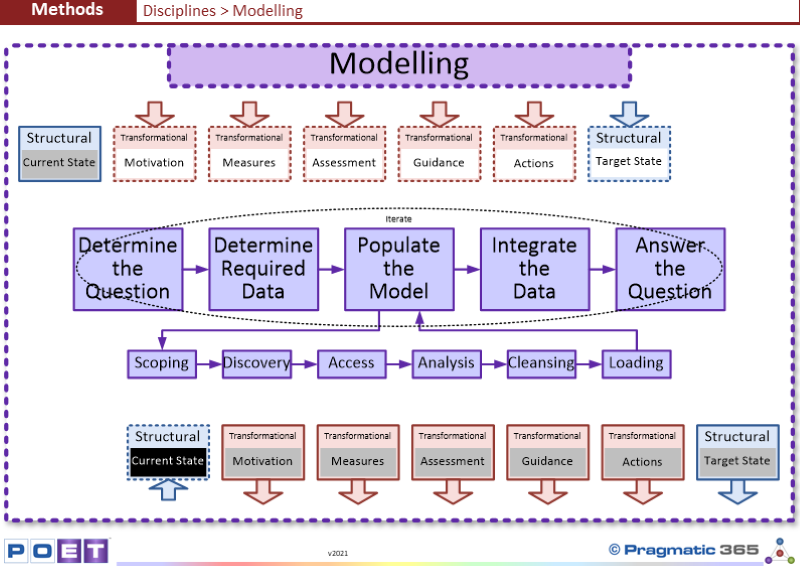 NOTE: The Modelling Discipline is special. It could be called a Meta-Discipline. It is special because it is never done on its own, Itís only every used by the other disciplines.
Here we see the five main sub-disciplines of Modelling:
Determine the Question
® Here we identify a question that needs to be answered. There is no reason to model anything unless it will be used to answer a question. Either the question cannot currently be answered or the quality and confidence in an existing answer is too low to be useful.
| | |
| --- | --- |
| Keypoint | Adopt this component by... |
| 1. Only model things to answer a question. 2. Treat model population as a Data Migration exercise. 3. Integrate/remove source data. | Management: Ensure that Modelling exists and is treated as a data migration exercise. |
Questions to ponder...
Does your Enterprise even recognise this as a discipline?
How does this discipline map to your Enterprise?
Are there any problems with how your Enterprise executes this discipline?
Does the discipline your Enterprise uses include all of these required inputs and outputs?
If not, what do you need to change? Who is Responsible for making them? And who is Accountable for making sure the changes are made?
Does your Enterpise train people in this discipline?
If not, do you think it would be beneficial to do so? If so, who will you talk to, to make it happen?