https://www.pragmatic365.org/display-show.asp?ComponentNo=000489
Is someone telling you when to turn the steering wheel and how much? Does your Enterprise provide you with things that allow you to understand how you fit into the overall Transformation domain? If not, would your job be more effective, efficient and more rewarding if it did? Who will you lobby to provide it? https://www.pragmatic365.org/display-show.asp?ComponentNo=000489 FREE EA Training at www.PEAF.com/Training FREE EA Books at www.PEAF.com/Books #PEAF #PragmaticEA #EntArch #enterprisearchitecture #BizArch #Change #Innovation #BusinessModel #CEO #Strategy #TOGAF #ITgovernance #agileculture #agile #agileleadership #agilemethodology #itstrategy #ceos
Theory is just as important as Practice https://www.pragmatic365.org/display-show.asp?ComponentNo=000489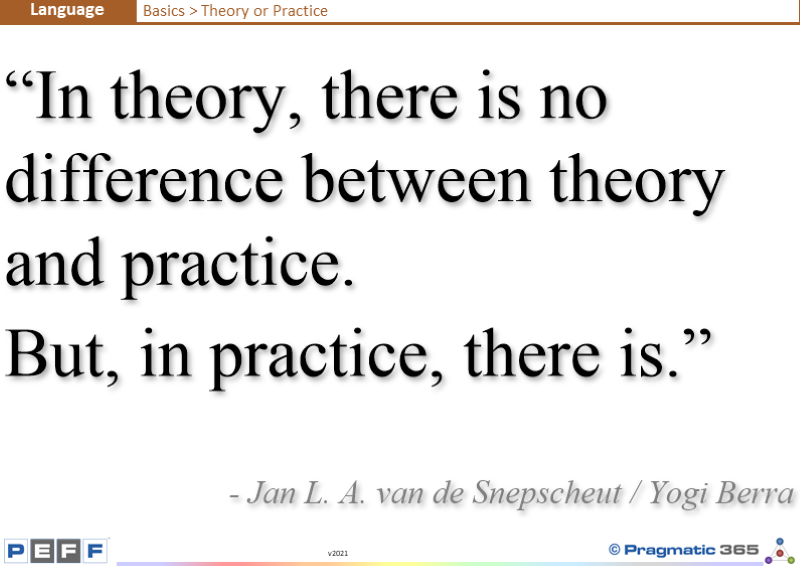 Pragmatic's Ontologies and Frameworks can easily be thought of some ivory tower academic tomes which are nice in a perfect world but does not provide any practical advice.
People ask me…
"Yeah! It's great but, does it tell me and others exactly what to do, when, how and with what?"
| | |
| --- | --- |
| Keypoint | Adopt this component by... |
| Theory is just as important as Practice | Management: Don't dismiss theory as not important. |
Questions to ponder...
Is someone telling you when to turn the steering wheel and how much?
Does your Enterprise provide you with things that allow you to understand how you fit into the overall Transformation domain?
If not, would your job be more effective, efficient and more rewarding if it did?
Who will you lobby to provide it?