https://www.pragmatic365.org/display-show.asp?ComponentNo=000626
Are these weightings what you would choose? If not, what would you choose? https://www.pragmatic365.org/display-show.asp?ComponentNo=000626 FREE EA Training at www.PEAF.com/Training FREE EA Books at www.PEAF.com/Books #PEAF #PragmaticEA #EntArch #enterprisearchitecture #BizArch #Change #Innovation #BusinessModel #CEO #Strategy #TOGAF #ITgovernance #agileculture #agile #agileleadership #agilemethodology #itstrategy #ceos
If you favour Project guidance and Detail, rather than Strategic guidance and Usability – then TOGAF is clearly for you. https://www.pragmatic365.org/display-show.asp?ComponentNo=000626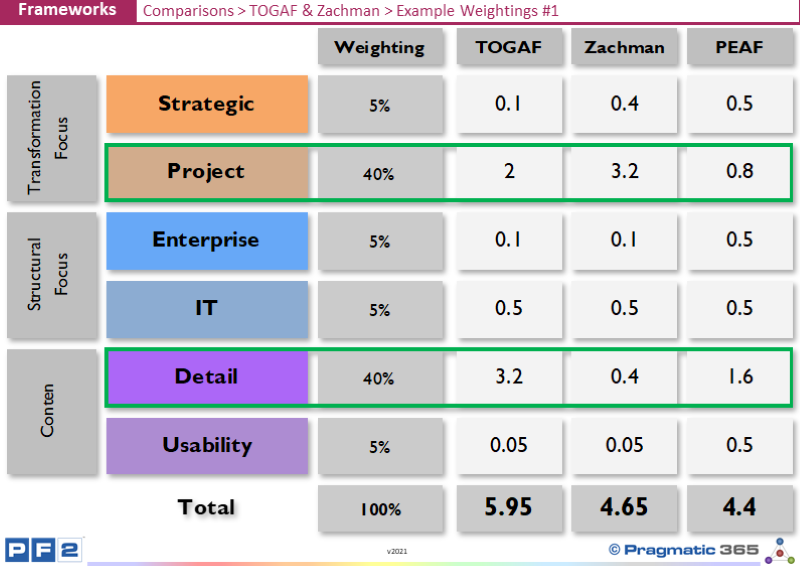 Even if you accept the raw scores provided by PEAF or change them, you may also place a different emphasis on each category, favouring some more than others. This will also change the resultant scores.
Here we see how the scores change if you make Project level guidance and Detail your preference.
| | |
| --- | --- |
| Keypoint | Adopt this component by... |
| If you favour Project guidance and Detail, rather than Strategic guidance and Usability – then TOGAF is clearly for you. | |
Questions to ponder...
Are these weightings what you would choose?
If not, what would you choose?